Last Updated On Wednesday, December 6, 2023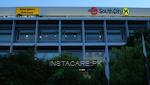 South City Hospital
St-1 Shahrah-e-Firdousi, Block 3, Clifton, Karachi
Top Specialities in South City Hospital
About South City Hospital
South City Hospital located at St-1 Shahrah-e-Firdousi, Block3 Clifton, Karachi, Sindh.
Their vision is to provide healthcare facilities for you andyour family and providing information about the quality of health.
Timing
South CityHospital offers24/7 hours of emergency services.
Consultation Fee
The average consultation fee at South City Hospital ranges from 2500 - 4000 RS.
South CityHospital services
Servicesavailable at South City Hospital are given below:
Anesthesia

Cardiology

Pulmonology

Plastic Surgery

Pediatrics

Psychiatry

Dermatology

ENT

General Medicine

Gynaecology & Obstetrics

Internal Medicine

IVF & Genetic Centre

Neonatal Care

Nephrology

Neurology

Neurosurgery

Orthopedics

Rheumatology

Urology
Consultants
South City Hospital has experienced medical specialties. Theyprovide excellent healthservices for all patients but if you want a hassle-free and quick appointmentat South City Hospital, doctors consultthrough Instacare.pk.
Frequently Asked Questions
Top Specialities in Karachi
Similar Hospitals in Karachi
Top Labs in Pakistan