Last Updated On Tuesday, December 6, 2022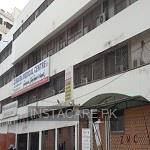 Zubaida Medical Centre (ZMC)
437/C Ghazi Salahuddin Road, CP Berar Society, Karachi
Top Specialities in Zubaida Medical Centre (ZMC)
About Zubaida Medical Centre (ZMC)
Zubaida Medical Center established in 2000 and located at Ghazi Salahuddin Road, C.P. & Berar Society Cp & Berar Chs, Karachi. They provide the best health care facilities. Zubaida Medical Center has been certified by International Standard By Organization.
Timing
Zubaida Medical Center offers 24/7 hours of emergency services.
Consultation Fee
The average consultation fee at Zubaida Medical Center is 500 - 1500 RS.
Zubaida Medical Center services
Services available at Zubaida Medical Center are given below:
Emergency service

Pharmacy

Operating Room service

Diagnostic Laboratory service

Physiotherapy service

Nephrology and Dialysis Service

Gastroenterology service

Gynecology service

Paediatrics service

ICU

Ophthalmology service

Dental service

ECHO and ETT service

Ultrasound

Diabetic Care service

Dermatology service
Radiology Service
The radiology department of Zubaida Medical Center is a state of the art center with the latest machinery.
Consultants
Zubaida Medical Center has experienced medical specialties. They provide excellent health services for all patients but if you want a hassle-free and quick appointment from Zubaida Medical Center, doctors consult through Instacare.pk.
Frequently Asked Questions
Top Specialities in Karachi
Similar Hospitals in Karachi
Top Labs in Pakistan