Last Updated On Sunday, February 5, 2023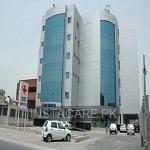 City Hospital
Peer Khurshid Colony Chah Usman Wala, La salle Road, Multan
Top Specialities in City Hospital
About City Hospital
City Hospital located at La Salle Rd, Peer Khurshid Colony Chah Usman Wala, Multan, Punjab. Their mission is to provide tertiary-level
medical facilities to the patients.
Timing
City Hospital offers 24/7 hours of emergency services.
Consultation Fee
The average consultation fee at City Hospital 500 - 2000 RS.
City Hospital services
Services which is available in City Hospital are given below:
· Anesthesia
· Cardiac surgery
· ENT
· General surgery
· Gynecology
· Infertility
· Internal medicine
· Neurosurgery
· Obstetrics
· Orthopedic surgery
· Plastic surgery
· Radiology
Consultants
City Hospital has experienced medical specialties. They provide excellent health services for all patients but if you want a hassle-free and quick appointment from City Hospital, doctors consult through Instacare.pk.
Frequently Asked Questions
Top Specialities in Multan
Similar Hospitals in Multan
Top Labs in Pakistan