Last Updated On Saturday, February 4, 2023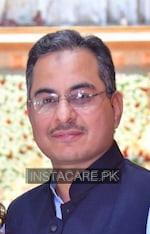 Dr. Shahzad alam khan - Internal Medicine
PMC Verified
MBBS, FCPS
Corona-Virus Treatment, Diabeties, Biopsy, Cardiac Patient Management
Under 15 Mins Wait Time
19 Years Experiance
99% Satisfied Patients
Under 15 Mins Wait Time
19 Years Experiance
99% Satisfied Patients Dr. Rana Zulfiqar - Pediatrician
MBBS
Allergies, Asthma, Constipation, Detailed Newboarn Examine
Under 15 Mins Wait Time
17 Years Experiance
99% Satisfied Patients
Under 15 Mins Wait Time
17 Years Experiance
99% Satisfied Patients
About Jinnah Hospital (Multan)
Jinnah Hospital is located at Nishtar Rd, Al Rahim Colony, Multan, Punjab. Its mission is to provide excellent medical facilities to patients in a peaceful environment.
Timing
Jinnah Hospital offers 24/7 hours of emergency services.
Consultation Fee
The average consultation fee at Jinnah Hospital is 1500 RS.
Jinnah Hospital services
The best Services available at Jinnah Hospital are given below:


·        Neuromusculoskeletal medicine service
·        Orthopedic surgery service
·        Reconstructive surgery service
·        Pediatric Orthopedic surgery service
Consultants
Jinnah Hospital has experienced medical specialties. They provide excellent health services for all patients but if you want a hassle-free and quick appointment from Jinnah Hospital, doctors consult through Instacare.pk.
Frequently Asked Questions
Top Specialities in Multan
Similar Hospitals in Multan
Top Labs in Pakistan