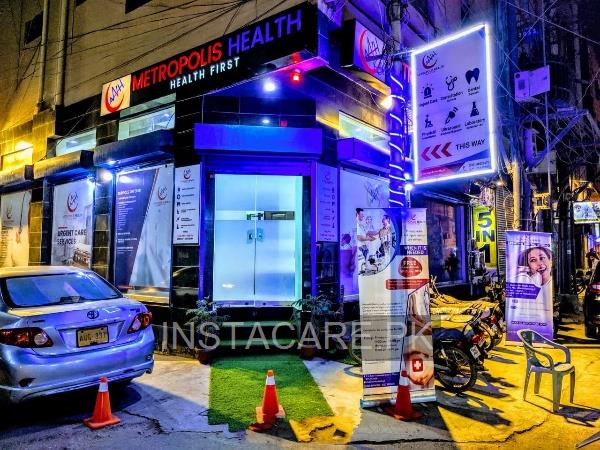 Metropolis Health Hospital
11C Badar Commercial Street 12, DHA Phase 5, Karachi
Top Specialities in Metropolis Health Hospital
About Metropolis Health Hospital
Metropolis Health Hospital located at Phase V Badar Commercial Area Defence V Defence Housing Authority, Karachi, Karachi City, Sindh. Its mission is to provide health facilities at an affordable price.
Timing
Metropolis Health Hospital provides services from 11 AM- 9 PM.
Consultation Fee
The average consultation fee at Health Icon Medical And Diagnostic Center is 750- 2500 RS.
Metropolis Health Hospital services
Metropolis Health Hospital gives 20 plus services which include:
Physical Rehabilitation Services
Cardiology services
Dermatology services
Diabetes services
Endocrinology services
ENT services
Family Physician services
General Surgery services
Internal Medicine services
Nephrology services
Orthopedics services
Obstetrics & Gynecology services
Pediatrics services
Pediatric Surgery services
Pulmonology Services
Rheumatology services
Urology & Pediatric Urology services
Crowns & Bridges services
Composite Fillings services
Extractions services
Fissure Sealants services
GIC Fillings services
Implants services
Pulpotomy services
Pulpectomy services
Periodontal Splinting services
Root Canal Treatment services
Scaling & Polishing services
Whitening & Bleaching services
Diagnostic Services
In diagnostic service, Metropolis Health Hospital offers the facility of blood and body fluid sampling and Ultrasound.
Consultants
Metropolis Health Hospital has experienced medical specialties. They provide excellent health services for all patients but if you want a hassle-free and quick appointment at Metropolis Health Hospital, doctors consult through Instacare.pk.
Frequently Asked Questions
Top Specialities in Karachi
Similar Hospitals in Karachi