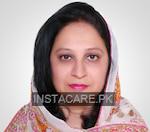 Prof. Dr. Saera Suhail Kidwai
Internal Medicine
MCPS, FCPS (Internal Medicine), MBBS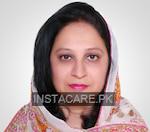 Prof. Dr. Saera Suhail Kidwai - Internal Medicine
MCPS, FCPS (Internal Medicine), MBBS
Visit Doctor
Metropolis Health Hospital
Wednesday

6:00pm - 8:00pm

Sunday
MBBS
MCPS
FCPS (Internal Medicine).
2019 - Present, Professor , FRPMC - PAF Hospital.
Prof. Dr. Saera Suhail Kidwai
is a
Internal Medicine Specialist, Rheumatologist, General Physician, Family Physician, Consultant Physician, Hypertension Specialist, Diabetologist and Geriatrician
. Sh
e is having over 23 years of experience in the field of
Internal Medicine
and practices at
Metropolis Health Hospital
. Her field of interest includes
Corona-Virus Treatment, Diabetes Management, Early Arthritis diagnosis and management, Fibromyalgia, Gout, Lupus and other connective tissue disorders, Nerve pain-neck pain-back pain, Rheumatoid Arthritis
.
Frequently Asked Questions
Similar Internal Medicine in Karachi
Top Specialities in Karachi
Top Internal Medicine in Karachi Areas
Top Hospitals in Karachi
Radiology Pathology Labs in Pakistan
Popular Labs in Pakistan