Last Updated On Tuesday, March 28, 2023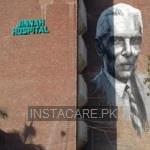 Jinnah Hospital (Lahore)
Moulana Shabbir Ahmed Usmani Road, Faisal Town, Lahore
Top Specialities in Jinnah Hospital (Lahore)
About Jinnah Hospital (Lahore)
Jinnah Hospital is a government hospital in Lahore, Pakistan. Jinnah Hospital was established in 1994. Jinnah Hospital gives free health and medical treatment to the patients.
Timing
Jinnah Hospital offers 24/7 hours of emergency services.
Consultation Fee
Jinnah Hospital has no consultation charges, If you want to consult with any doctor of Jinnah Hospital you only need to take a token.
Services Available In Jinnah Hospital
Jinnah Hospital based on 1250 beds they provide the following services
General Medicine

General Surgery

Neurosurgery

Pediatrics

Cardiology/ CCU mmmmm

ENT

Ophthalmology/ Eye

Dermatology (Skin)

Obstetrics & Gynaecology

Cardiac Surgery

Pulmonology/ T.B. & Chest

Accident and Emergency Department

Labour Room

Trauma Center

Orthopaedic Ward

Oncology

Psychiatry

Radiotherapy

Anaesthesia/ Intensive Care Unit (ICU)

Plastic Surgery

Urology

Burn Center (State of art)

Pediatric Surgery

Private Rooms

Nephrology

Endocrinology

Faciomaxillary Surgery

Vascular Surgery

Diabetic Center
Jinnah Hospital also offers services for Covid-19 patients, the hospital is committed to providing essential medical services in the safe space of your home during Covid.
Laboratory Facilities
Jinnah Hospital has a collaboration with Chughtai and Doctors Diagnostic Laboratory and Consultants for all diagnostic test facilities.
Consultants
Jinnah Hospital has experienced medical specialties. They provide excellent health services for all patients but if you want a hassle-free and quick appointment from the Jinnah Hospital, doctors consult through Instacare.pk
Frequently Asked Questions
Top Specialities in Lahore
Similar Hospitals in Lahore
Top Labs in Pakistan