Last Updated On Wednesday, December 6, 2023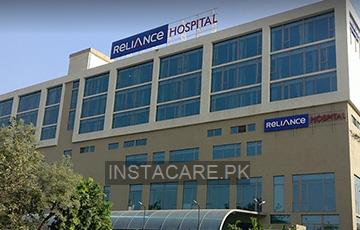 Reliance Hospital
132 Civic Center- Phase 4 Near KFC, Bahria Town, Islamabad
Top Specialities in Reliance Hospital
About Reliance Hospital
Reliance Hospital located at 132 Civic Center- Phase 4- Bahria Town, Rawalpindi. Its mission is to provide the best possible diagnosis and treatment with care and privacy, the confidentiality of information.
Timings
Reliance Hospital offers 24/7 hours of emergency services.
Consultation Fee
The average consultation fee at the Reliance Hospital ranges from 1500 RS.
Reliance Hospital Services
Reliance Hospital offers the facility of ICU, Labour room, Pain-free, Pharmacy, NICU, OPD, IPD, EPD, OT and services available in this Hospital are given below:
Speech Therapy service

Neurosurgery service

Dentistry service

ENT service

Cardiology service

General Medicine service

Orthopedics service

Pediatrics and Neonatology service

Ophthalmology and Optics service

Dermatology and Cosmetology service

Laparoscopic surgery service

Neuropsychiatry service

Urology service

Physiotherapy service

Pulmonology service

Diet and Nutrition service



Radiology Service

Radiology department of Reliance Hospital providing premium quality imaging services to the patients. In Radiology service, they give the service of X-ray, CT scan, MRI




Consultants

Reliance Hospital provides excellent health services for all patients but if you want a hassle-free and quick appointment from Reliance Hospital to consult through Instacare.pk.
Frequently Asked Questions
Top Specialities in Islamabad
Similar Hospitals in Islamabad
Top Labs in Pakistan