Best Bariatric Surgeon in Pakistan
Also known as Weight Loss Surgeon
Last Updated On Wednesday, October 4, 2023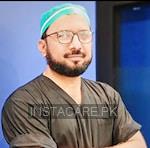 Dr. Naveed Malik
PMC Verified
Laparoscopic Surgeon
MBBS,FCPS (Surgery)
Under 15 Mins Wait Time
17 Years Experience
99% Satisfied Patients
Under 15 Mins Wait Time
17 Years Experience
99% Satisfied Patients
Who are Bariatric Surgeons?
Bariatric surgeons are specialized experts who perform bariatric surgery. It is a procedure in which the surgeon performs procedures that help in limiting food intake and restrict their absorption in the gastrointestinal tract. Bariatric surgery is done when you fail to lose weight through lifestyle changes and diet. It is not the first choice to get rid of excessive weight. Also, healthcare professionals do it when you are obese, and it is negatively affecting your health.
If the weight that you need to lose is a manageable goal, they may not perform bariatric surgery. The surgeons will calculate the risk versus benefit ratio and then make a decision.
When Should you see a Bariatric Surgeon?
You will need to see a bariatric surgeon when your weight becomes a cause of other diseases and life-threatening. If you are highly obese and a heart patient as well, the bariatric surgeon may decide to do a procedure. They perform different types of procedures, which can be listed as adjustable gastric banding (AGB), Roux-en-Y gastric bypass (RYGB), Biliopancreatic diversion with a duodenal switch (BPD-DS), vertical sleeve gastrectomy (VSG).
How can you consult with a bariatric surgeon through InstaCare?
You can consult with the best bariatric surgeon in Pakistan from the comfort of your home. We have a variety of specialists on board with us. Just contact instacare.pk and book the appointment now, without the need for an in-person visit. Also, you can contact InstaCare through calling at our mobile no 03171777509. All you need to do is call us, and we will connect you with a top bariatric surgeon in Pakistan.
Frequently Asked Questions
Radiology Pathology Labs In Pakistan
Popular Labs in Pakistan