Best Interventional Cardiologist in Pakistan
Also known as Heart Specialists, Heart Doctors, Doctors of Cardiology, Mahir-e-Amraz-e- Qalb, ماہرامراض قلب ,ماہر امراض دل
Last Updated On Wednesday, October 4, 2023

Prof. Dr. Sultana Habib
PMC Verified
Cardiologist
MBBS,FESC,FCPS (Cardiology)
Under 15 Mins Wait Time
33 Years Experience
99% Satisfied Patients
Under 15 Mins Wait Time
33 Years Experience
99% Satisfied Patients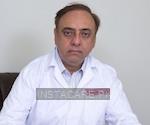 Dr. Moazzam Ali Naqvi
PMC Verified
Cardiologist
MBBS,FCPS (Medicine),FCPS (Cardiology)
Under 15 Mins Wait Time
26 Years Experience
99% Satisfied Patients
Under 15 Mins Wait Time
26 Years Experience
99% Satisfied Patients Dr, Muhammad Imran
PMC Verified
Cardiologist
MBBS,FCPS
Under 15 Mins Wait Time
19 Years Experience
99% Satisfied Patients
Under 15 Mins Wait Time
19 Years Experience
99% Satisfied Patients
Who are interventional cardiologists?
Interventional cardiologists are specialized professionals who deal with the diseases of the cardiovascular system, which means the heart and the blood vessels. They perform procedures and surgeries to treat the conditions related to the cardiovascular system. The interventional cardiologists diagnose the condition, prescribe medicines, and perform invasive procedures like bypass surgeries and angioplasty. Also, they counsel the patient about how to cope with the disease. The interventional cardiologists will take a complete history of your health, like what medicines you have been taking? What is your lifestyle? Do you have any other health conditions? Family history, and much more.
Why should you see interventional cardiologists?
Interventional cardiologists are expert professionals who take care of your heart and blood vessels. Therefore, you may need to visit them from time to time for the surgical treatment of your health condition. One may need to visit them if they have an aneurysm, angina, myocardial infarction, thrombosis, aortic insufficiency, aortic aneurysm, aortic dissection, atrial fibrillation, atrial flutter, supraventricular tachycardia, hypertension, mitral valve insufficiency, mitral valve regurgitation, mitral valve prolapse, cardiomyopathy, mitral valve stenosis, tricuspid regurgitation, bradycardia, heart murmur, heart failure, hypercholesterolemia, pericarditis, endocarditis, myocarditis, Prinzmetal angina, claudication, coronary artery disease, carotid artery disease, rheumatic heart disease and much more.
How can you consult with an interventional cardiologist through InstaCare?
You can consult with the best interventional cardiologist in Pakistan from the comfort of your home. We have a variety of specialists on board with us. Just contact instacare.pk and book the appointment now, without the need for an in-person visit. Also, you can contact InstaCare through calling at our mobile no 03171777509. All you need to do is call us, and we will connect you with a top interventional cardiologist in Pakistan.
Frequently Asked Questions
Radiology Pathology Labs In Pakistan
Popular Labs in Pakistan