Last Updated On Friday, December 1, 2023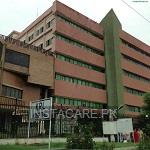 KRL Hospital
G- Kashmir Hwy, 1, Service Road South, G 9/1, G-9, Islamabad
Top Specialities in KRL Hospital
About KRL Hospital
KRL Hospital located at G-Kashmir Highway, Service Road South, G 9/1, Islamabad. Their vision is to provide excellent healthcare facilities.
Timing
KRL Hospital offers 24/7 hours of emergency services.
Consultation Fee
The average consultation fee at KRL Hospital is 1500- 2000 RS.
KRL Hospital services
Best services available at KRL Hospital are given below:
· Active Pain Management
· Acute kidney injury
· Anatomy scan
· Antenatal Checkup/Antenatal exercises/Antenatal Yo
· Antenatal Services
· Arthritis
· Arthritis Management
· Back Pain
· Bariatric Surgery
· Bone Trauma
· Breast Surgery
· Caesarean Section/ C-Section
· Cardio-Thoracic Surgery
· Cardiology
· Cataract
· Chronic kidney disease
Consultants
KRL Hospital has experienced medical specialties. They provide excellent health services for all patients but if you want a hassle-free and quick appointment from KRL hospital, doctors consult through Instacare.pk.
Frequently Asked Questions
Top Specialities in Islamabad
Similar Hospitals in Islamabad
Top Labs in Pakistan