Last Updated On Wednesday, November 30, 2022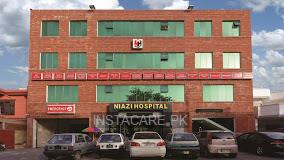 Niazi Hospital
54-55 Khayaban-e-Firdousi, Block A Phase 1, Johar Town, Lahore
Top Specialities in Niazi Hospital
About Niazi Hospital
Niazi Hospital located in Block A Phase 1 Johar Town, Lahore, Punjab. NiaziHospital is a private hospital that provides medical and surgical services ofthe highest quality. The mission of Niazi Hospital to provide excellenthealthcare services to the patients and giving them a friendly environment.
Timing
Niazi Hospital offers 24/7 hoursof emergency services.
Consultation Fee
The averageconsultation fee at the NiaziHospital ranges from 1500 to 2500 RS.
Niazi Hospital Services
Niazi Hospital give services ofOrthopedic, Dentistry, Surgery, Pathology, Ophthalmology, and Gynecology.
Niazi Hospital also give servicesof Internal Medicine in which they offer services for
· Cardiology
· Dengue
· Echo-cardiography
· EHCPhysician
· Endocrinology
· Gastroenterology
· Hospitalist/ General Internal Medicine
· ICUteam
· InfectiousDiseases
· MRCP/FCPSTrainees
· Nephrology
· Neurology
· PalliativeMedicine
· Psychiatry
· Pulmonology
Radiology Services
Niazi Hospital give services ofradiology which include:
· Angiogram
· Coiling
· CTScan
· DSA(digital subtraction imaging)
· Embolization
· Fluoroscopy
· Mammogram
· MRI
· Picline
· RFA
· X-Ray
Consultants
NiaziHospital has experienced medical specialties.They provide excellent health servicesfor all patients but if you want a hassle-free and quick appointment from theNiazi Hospital, doctors consult through Instacare.Pk.
Frequently Asked Questions
Top Specialities in Lahore
Similar Hospitals in Lahore
Top Labs in Pakistan