Last Updated On Tuesday, December 6, 2022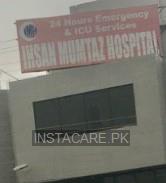 Ihsan Mumtaz Hospital
71- Maulana Shaukat Ali Road, Block E, Phase 1, Johar Town, Lahore
Top Specialities in Ihsan Mumtaz Hospital
About Ihsan Mumtaz Hospital
Ihsan Mumtaz Hospital wasestablished in 1995 in Lahore, Punjab. They are providing world-class healthservices in Pakistan. Ihsan Mumtaz Hospital's vision is to provide qualityhealth care for all leading to an integrated socio-economic community.
Timing
Ihsan Mumtaz Hospital offers 24/7hours of emergency services.
Consultation Fee
The averageconsultation fee at the IhsanMumtaz Hospital is 1500 to 3000 RS.
Ihsan Mumtaz Hospital Services
Ihsan Mumtaz Hospital and Medical Center is a 100-bed private hospital offeringfull-spectrum medical care, numerous patient room options. Ihsan MumtazHospital divided into 20 plus departments andgives the best services of Orthopedics, Dentistry, Pathology, Surgery, InternalMedicine, Ophthalmology, and Nephrology.
RadiologyServices
In Radiologyservices, Ihsan Mumtaz Hospital offers only X-ray service.
Consultants
Ihsan Mumtaz Hospital has experienced medical specialties. They provide excellent health services for allpatients but if you want a hassle-free and quick appointment from the Ihsan Mumtaz Hospital, doctors consult throughInstacare.pk.
Frequently Asked Questions
Top Specialities in Lahore
Similar Hospitals in Lahore
Top Labs in Pakistan