Last Updated On Friday, September 29, 2023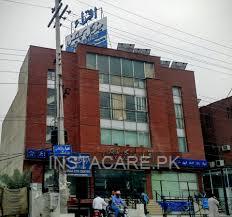 Iqra Medical Complex
24, 25, 26 Maulana Shaukat Ali Rd, Block A, Johar Town, Lahore
Top Specialities in Iqra Medical Complex
About Iqra Medical Complex
Iqra Medical Complex wasestablished in 1991 at Johar Town, Lahore, Pakistan. Iqra Medical Complex. Theirvision is to provide health facilities to the community of Lahore, Pakistan.
Timing
Iqra Medical Complex offers 24/7hours of emergency services.
Consultation Fee
The averageconsultation fee at IqraMedical Complex ranges from 1500-2500 RS.
Iqra MedicalComplex services
Iqra Medical Complex gives thebest services in Gynecology, Radiology, Pathology, Surgery, Internal Medicine,Ophthalmology and Nephrology which are given below:


· Acutekidney injury
· Chronickidney disease
· DiabetesMellitus
· dialysis
· Electrolyteand metabolic disorders
· Followup of kidney transplant patients
· Hypertension
· kidneyand bladder infections
· Medicaltreatment of kidney stones
· Proteinor blood in the urine
· Swellingon feet
Radiology Services
Iqra Medical Complex providesAngiogram, Coiling, CT scan, DAS, Embolization, Fluoroscopy, Mammogram, MRI,Pic line, RFA, X-ray services in Radiology.
Consultants
Iqra Medical Complex has experienced medical specialties. They provide excellent health services for allpatients but if you want a hassle-free and quick appointment from the IqraMedical Complex, doctors consult through Instacare.pk
Frequently Asked Questions
Top Specialities in Lahore
Similar Hospitals in Lahore
Top Labs in Pakistan