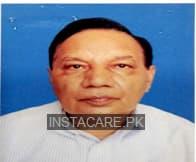 Assoc. Prof. Dr. Muhammad Mubarak Ali
ENT Specialist
FICS (USA), DLO, MCPS, FRCS (UK), FCPS, MBBS, BSC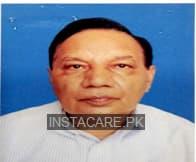 Assoc. Prof. Dr. Muhammad Mubarak Ali - ENT Specialist
FICS (USA), DLO, MCPS, FRCS (UK), FCPS, MBBS, BSC
Visit Doctor
Chughtai Medical Center Dha phase 4
Wednesday

8:00pm - 9:00pm

Thursday

8:00pm - 9:00pm

Friday

8:00pm - 9:00pm

Saturday

8:00pm - 9:00pm

Sunday
Chughtai Medical Center ( Askari 11)
Wednesday

9:00pm - 10:00pm

Thursday

9:00pm - 10:00pm

Friday

9:00pm - 10:00pm

Saturday

9:00pm - 10:00pm

Sunday
Qualification:
MBBS



BSC
DLO
MCPS
FICS (USA)
FCPS
FRCS(UK).
Royal College of Surgeons in Ireland

College of physicians
Sir Ganga Ram Hospital
Ministry of Health
Kingdom Of Saudi Arabia
Agha Khan Hospital.
Assoc. Prof. Dr. Muhammad Mubarak Ali
is a
ENT Specialist
. He is having over 20 years of experience in the field of
ENT
and practices at
Chughtai Medical Center ( Askari 11)
and
Chughtai Medical Center Dha phase 4
. His field of interest includes
Cancer in region of Head and Neck, Ear Wax Removal, FESS, Goitre, Head And Neck Infections, Headache, Hearing Evaluation And Management, Laryngoscopy, Myringotomy, Nasal Allergy, Nose Shape Change Goitre, Thyroid Surgery, Tracheostomy, Tonsillectomy, Tinnitus treatment
.
Frequently Asked Questions
Similar ENT Specialist in Lahore
Top Specialities in Lahore
Top ENT Specialist in Lahore Areas
Top Hospitals in Lahore
Radiology Pathology Labs in Pakistan
Popular Labs in Pakistan