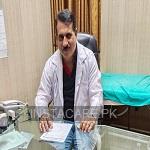 Dr. Bashir Ahmed
General Surgeon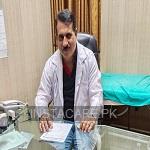 General Surgeon
MBBS
99% (0)
Satisfied Patients
About
Experience:
General Surgeon at Hijaz Hospital Lahore.

Dr. Bashir Ahmed
is a General Surgeon ENT Specialist. He is having over 27 years of experience in the field of General Surgery and ENT. He practices at
Hijaz Hospital
Lahore. His field of interest includes Abdomen Colorectal Surgery, Abdominal Surgery, Appendectomy, Breast Surgery, Cholecystectomy, Colostomy, Diabetic Foot Care & Surgery, Emergency Surgery, Fistula, Hepatobiliary Surgery, Hernia And Perianal Surgery.
Frequently Asked Questions
Similar General Surgeon in Lahore
Top Specialities in Lahore
Top General Surgeon in Lahore Areas
Top Hospitals in Lahore
Radiology Pathology Labs in Pakistan
Popular Labs in Pakistan