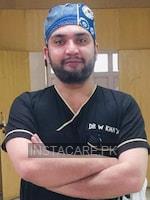 Dr. Waqar Ullah Khattak
Pediatric Surgeon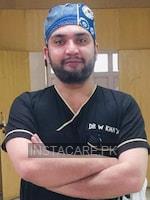 Dr. Waqar Ullah Khattak - Pediatric Surgeon
FCPS, MBBS, MCPS
Visit Doctor
Dr. Waqar & Dr. Rafi Clinic
Room no 9, Baba Medical Center, Dabgari Gardens, Peshawar
---
Monday

2:00pm - 6:00pm

Tuesday

2:00pm - 6:00pm
Wednesday

2:00pm - 6:00pm

Sunday
Pediatric surgery clinic
Saturday

2:00pm - 5:00pm

Sunday

2:00pm- 5:00pm
Online Consultation
Dr. Waqar & Dr. Rafi Clinic
Rs. 1000
---
Pediatric Surgery Clinic
Dr. Waqar & Dr. Rafi Clinic.
Dr. Waqar Ullah Khattak
is a
Pediatric
Surgeon
. He is having over 7 years of experience in the field of
Pediatric

Surgery
and practices at
Pediatric Surgery Clinic and
Dr. Waqar & Dr. Rafi Clinic
.
His field of interest includes
Undescended Testes, Hypospadias Repair, Release Of Tongue Tie, Bronchoscopy, Fundoplication, Cardiac Issues, Childhood Vaccinations, Digestive Issues, Growth Monitoring, Neurological Issues, Pediatric Primary Care, Respiratory Issues, Abdominal Wall Defect, Bladder Diversion, Bladder
Exstrophy
Repair, Bronchoscopic Removal Of Foreign Body, Congenital Malformations, Conjoined Twins, Kidney And Bladder Stones, Management Of
Esophageal
Stricture,
Pediatric
Abdominal Trauma,
Pediatric
Laparoscopic Surgery, Pediatric Tumors, Picc Line Insertion,
Suture less
Circumcision, Treatment For Bed Wetting
.
Frequently Asked Questions
Similar Pediatric Surgeon in Peshawar
Top Specialities in Peshawar
Top Pediatric Surgeon in Peshawar Areas
Top Hospitals in Peshawar
Radiology Pathology Labs in Pakistan
Popular Labs in Pakistan