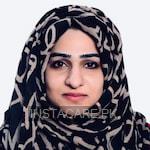 Dr. Mariam Maqbool Kayani
Internal Medicine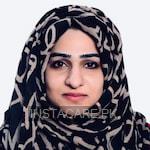 Dr. Mariam Maqbool Kayani - Internal Medicine
MBBS, MD
Visit Doctor
Advanced International Hospital
Monday

9:00am - 3:00pm

Tuesday

9:00am - 3:00pm
Wednesday

9:00am - 3:00pm

Thursday

9:00am - 3:00pm

Friday

9:00am - 3:00pm

Saturday

9:00am - 3:00pm

Sunday
Experience:
Advanced International Hospital.
Dr. Mariam Maqbool Kayani
is a Internal medicine Specialist and Consultant Physician. Sh
e is having over 7 years of experience in the field of
Internal medicine
and practices at
Advanced International Hospital
.
Her field of interest includes
Corona-Virus Treatment, GASTRO INTESTINAL PROBLEMS, GI/ Liver Disorders, HEART VALVE DISORDERS, Hepatitis A Treatment, Hepatitis B Treatment, Hepatitis C Treatment, JOINTS AND RHEUMATOLOGICAL DISORDERS, Migraine, Asthma, Diabetes, Diarrhea, High Cholesterol, Hypertension, Joint Pain, Stroke, TB, Thyroid disease.
Frequently Asked Questions
Similar Internal Medicine in Islamabad
Top Specialities in Islamabad
Top Internal Medicine in Islamabad Areas
Top Hospitals in Islamabad
Radiology Pathology Labs in Pakistan
Popular Labs in Pakistan