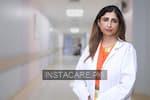 Dr. Uzma Nayyar
Gynecologist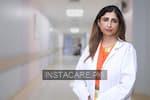 Dr. Uzma Nayyar - Gynecologist
MBBS, FCPS
Visit Doctor
Noor General Hospital
Wednesday

9:00pm - 10:00pm

Thursday

9:00pm - 10:00pm

Friday

9:00pm - 10:00pm

Saturday

9:00pm - 10:00pm

Sunday
MBBS from Punjab University, Lahore

FCPS from College of Physicians and Surgeons Pakistan.
Noor General Hospital, Islamabad as Consultant Gynecologist.
Dr. Uzma Nayyar is a Gynecologist and Obstetrician. She is having over 8 years of experience in the field of Gynecology and Obstetrician. She practices at Noor General Hospital. Her field of interest includes Antenatal Care, Antenatal Checkup, Caesarean (C-Section), Gynecological Surgeries, Hysteroscopic Procedures, Infertility Treatment.
Frequently Asked Questions
Similar Gynecologist in Islamabad
Top Specialities in Islamabad
Top Gynecologist in Islamabad Areas
Top Hospitals in Islamabad
Radiology Pathology Labs in Pakistan
Popular Labs in Pakistan