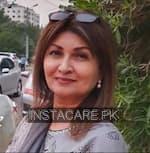 Dr. Sonia Poshni Sheikh
Gynecologist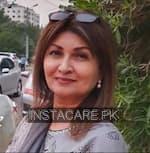 Dr. Sonia Poshni Sheikh - Gynecologist
MBBS, MCPS (Gyne & Obs)
Visit Doctor
Metropolis Health Hospital
Wednesday

6:00pm - 8:00pm

Saturday

6:00pm - 8:00pm

Sunday
Online Consultation
Metropolis Health Hospital
Rs. 2000
---
MBBS from Karachi University



MCPS (Gynae & Obs) from College of Physicians & Surgeons Pakistan.
Experience:
Metropolis Health Hospital, Karachi as Consultant Gynecologist.

Dr. Sonia Poshni Sheikh is a Gynecologist and Obstetrician. She is having over 35 years of experience in the field of Gynecology and practices at Metropolis Health Hospital. Her field of interest includes Infertility Treatment, Laparoscopy, Epidural Analgesia, Painless Delivery, Chorionic Villous Amniocentesis, Laparoscopy And Hysteroscopy, Caesarean Section/ C-Section, Clinical Breast Examination (CBE), Normal Delivery, Tubal Ligation, Amenorrhea (missed Periods), Bladder Prolapse, Congenital Abnormalities, Fibroids (Uterine), Hormone Disorders, Ovarian Hypofunction, Abnormal Bleeding, Aesthetic Gynecology, Aesthetic Gynecology For Vaginal Laxity, Antenatal Checkup, Antenatal Exercises, Chorionic Villous Sampling, Contraception Advice, IUCD (Coil) Pacement, Ovarian Cyst, Pap Smear, Post-Menopausal Bleeding, Sexual Dysfunction Among Women, TVS And Obstetrical Ultrasound, Urine Leakage, Vaginal Trauma After Child Birth.
Frequently Asked Questions
Similar Gynecologist in Karachi
Top Specialities in Karachi
Top Gynecologist in Karachi Areas
Top Hospitals in Karachi
Radiology Pathology Labs in Pakistan
Popular Labs in Pakistan