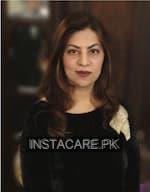 Prof. Dr. Joharia Azhar
Dentist
MHPE, BDS, FICD (USA), MSC (London), M. Phill (NUST), Fellowship in Laser Dentistry (Germany)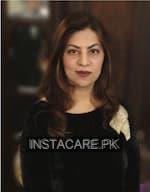 Prof. Dr. Joharia Azhar - Dentist
MHPE, BDS, FICD (USA), MSC (London), M. Phill (NUST), Fellowship in Laser Dentistry (Germany)
Visit Doctor
Pathodont Polyclinics
Monday

11:00am - 8:00pm

Tuesday

11:00am - 8:00pm
Wednesday

11:00am - 8:00pm

Thursday

11:00am - 8:00pm

Friday

11:00am - 8:00pm

Saturday

11:00am - 8:00pm

Sunday
BDS
MSC (London)
M. Phil (NUST)
Fellowship in Laser Dentistry (Germany)
FICD (USA)
MHPE.
Vice Principal AIMI Dental College
Pathodont Polyclinics.

Professor Dr. Joharia Azhar
is a Professor in Oral pathology and medical education, a
consultant laser dentist, cosmetologist, and aesthetician. One of the pioneers of Laser
dentistry and Laser assisted Pain control clinics.
Dr. Joharia has practiced in and around
Rawalpindi and Islamabad since 2005. She established and introduced her exclusive
laser dentistry and laser pain control clinics in 2011, which were later expanded into
Pathodont Polyclinics.
She also had the honor of establishing the first diagnostic lab
dedicated to oral pathologies in Rawalpindi and Islamabad in the year 2013, which offered
not only oral histopathology but various salivary diagnostic investigations as well.
Dr. Joharia holds many academic positions as well. She is Professor and Vice Principal in
Abbottabad International Dental College, head department of Oral Pathology, Chair
Department of Dental Education and Deputy Controller examination.
She has taught as a
professor and Associate Professor in Gulf as well. She was the professor and chair PBL
unit in world's largest all Women university, PNU, located in Riyadh, Kingdom Of Saudia
Arabia,
until she returned back to Pakistan. She is the International tutor at Aalz, Aachen
University, Germany, their Fellowship Programme director in Pakistan and Aalz represen
tative for Pakistan. She Introduced the German Fellowship in Laser dentistry for the first
time in Pakistan in 2015. She is the Councilor from Pakistan in the ASOMP (Asian Society
of Oral and Maxillofacial Pathology), ISLD ( International Society of Laser Dentistry)
Ambassador for Pakistan and Member of WWD (Worldwide Women Dentists Forum
FDI). She was deputy Reagent section 24 of ICD (International College of Dentists) of
which she also holds the fellowship.
Member Board of Advisors and E-Faculty DOOOX a
European Dental Education portal. Associate editor of ADOH "Advances in Dentistry and
Oral Health journal". A reviewer for IDJSR (International Dental Journal of Student
Research) and Iranian Journal of basic medical sciences JBMS. She is the Founding
President of Pakistan Association of Women Dentists (PAWD) and President of the
federal Council Pakistan Society Of Oral & Maxillofacial Pathologists (PSOMP). She is
also the chair person Scientific Committee PSOMP. Member of ALD (Academy of Laser
Dentistry) and IAOP (International Association of Oral Pathology). CEO Pathodont
polyclinics, a pioneering oral diagnostic and laser center and vice chairperson of NGO
Healthnet, member board of directors The Paragon Society.
Dr. Joharia is an invited
speaker at various conferences and has travelled and published extensively.
She is a graduate of Liaquat University of Medical & Health Sciences LUMHS, after which
she proceeded to UK. Her post graduate training is from London, Germany, and
Islamabad. She is also one of the few Virologists with oral pathology back ground,
currently available in Pakistan
In her private practice she introduced laser dentistry and FDA approved treatment
regimens in Pakistan in 2013. She has now brought the famous Harley street UK
Academy of Facial Design AFD to Pakistan in collaboration with Dr Iviona Igerac and
hosts the facial design Academy London's franchise for Pakistan.
Research Interests:
Oral Pathology, Virology, Oral cancer. Laser dentistry. Medical and dental education.
Frequently Asked Questions
Similar Dentist in Rawalpindi
Top Specialities in Rawalpindi
Top Dentist in Rawalpindi Areas
Top Hospitals in Rawalpindi
Radiology Pathology Labs in Pakistan
Popular Labs in Pakistan