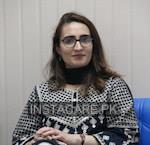 Ms. Amina Iftikhar
Psychologist
MSc (Psychology), Ms (Clinical Psychology), M.A Special Education, MPA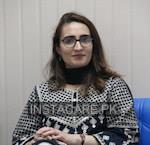 Ms. Amina Iftikhar - Psychologist
MSc (Psychology), Ms (Clinical Psychology), M.A Special Education, MPA
Visit Doctor
Evercare Hospital
Saturday

10:00am - 2:00pm

Sunday
MS Clinical and Counseling Psychology from Kinnaird college 2013

MSc Psychology from PU 2009
M.A Special Education 2012 AIOU
MPA from VU 2017.
Rainbow Obesity & Eating Disorder Centre since 2013
Evercare Hospital.

Ms. Amina Iftikhar is a Psychologist. She is having over 12 years of experience in the field of Psychology and practices at Rainbow Obesity & Eating Disorder Centre and Evercare Hospital. Her field of interest includes Eating Disorders, Depression child developmental issues such as ADHD and relationship counseling, Mood disorders, Anxiety disorders, Teen issues, Drug addiction, Parenting skills, Group counselling, Grief recovery, Personal development.
Frequently Asked Questions
Similar Psychologist in Lahore
Top Specialities in Lahore
Top Psychologist in Lahore Areas
Top Hospitals in Lahore
Radiology Pathology Labs in Pakistan
Popular Labs in Pakistan